products :: Kids :: Stickers ::
Christian Symbol Smiles
Christian Symbol Smiles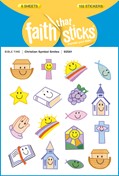 Price:
2.49
ISBN:
978-1-4143-9256-1
Trim Size:
4 x 5.75
Binding:
Stickers
Release:
December 2013
These fun little stickers show Christian symbols that will bring a smile to the face of any boy or girl. Each of the 17 symbols—including Bible, star, ark, church, fish, and more—has a charming smiley face design. Approximately ½"–¾" x ¾"–1" each. Six sheets, 17 designs per sheet; 102 stickers per package.