products :: Kids :: Stickers ::
The Lord Is My Shepherd
The Lord Is My Shepherd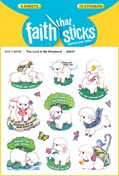 Price:
2.49
ISBN:
978-1-4143-9254-7
Trim Size:
4.063 x 6
Binding:
Stickers
Release:
December 2013
These stickers are a delightful way to teach the 23rd Psalm. Nine playful lambs each stand with one of the key phrases from this favorite Bible chapter: The Lord is my shepherd, My cup runneth over, Thou art with me, and more. Each sheet has nine large stickers (approx. 1¼" x 1¼"), plus four tiny flowers. Six sheets, 13 stickers; 78 stickers per package.