products :: Kids :: Stickers ::
Berries and Blessings
Berries and Blessings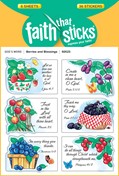 Price:
2.49
ISBN:
978-1-4143-9252-3
Trim Size:
4.063 x 6
Binding:
Stickers
Release:
December 2013
These beautiful stickers feature blooms and berries, along with encouraging Scriptures, including Let us love one another, I can do all things through Christ, Trust in the Lord, and more. Perfect for notes and placecards, the six different Bible verses and designs are approx. 1¾" x 1¼" each. Six sheets, 6 stickers per sheet; 36 stickers per package.