products :: Stickers :: Fall Harvest and Thanksgiving ::
Give Thanks to the Lord
Give Thanks to the Lord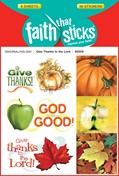 Price:
2.49
ISBN:
978-1-4143-9250-9
Trim Size:
4.063 x 6
Binding:
Stickers
Release:
December 2013
These stickers make giving thanks fun and colorful for boys and girls. Pumpkins, apples, and fall leaves are paired with greetings: God is good, Give thanks, and Give thanks to the Lord. Complementary fall-themed stickers without words are also included. Ideal for fall or back-to-school crafts, Thanksgiving projects, or placecards. Six sheets, 6 stickers per sheet; 36 stickers per package.