products :: Bibles :: Text ::
Slimline Center Column Reference Bible NLT
Slimline Center Column Reference Bible NLT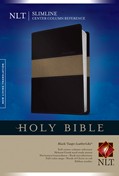 Price:
32.99
ISBN:
978-1-4143-9109-0
Trim Size:
5.375 x 8.25
Binding:
LeatherLike, Black/Taupe TuTone
Release:
March 2014
This NLT Slimline Center Column Reference Bible features premium bonded leather and is the perfect choice for people who are looking for more than a text Bible and less than a study Bible. There are a tremendous amount of features packed into this Bible, which is only an inch thick. Concise book introductions for each book include a content overview, outline, author and date information, as well as purpose and themes. The refined cross-reference system eliminates dead ends by focusing on the meaning of a given verse and identifying parallel passages and places where Scripture quotes Scripture. The NLT Word Study System identifies 200 of the most significant Hebrew and Greek words used in the Bible and traces their use in Scripture. A dictionary of the words included in the Word Study System is also included. Other features include a dictionary/concordance, words of Christ in red, 9 full color maps, and a ribbon marker. See the Bible's consistent message as you seek God's heart.