products :: Fiction :: Contemporary ::
They Danced On
They Danced On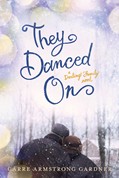 Price:
14.99
ISBN:
978-1-4143-8816-8
Trim Size:
5.5 x 8.25
Binding:
Softcover
Release:
July 2016
Nothing is more important to Jane Darling than her family. She's dedicated her life to raising her children, and they all appear to be doing well. She can finally relax and enjoy life. But when her husband becomes seriously ill, Jane finds herself taking on the most difficult role of her life.

Laura Darling moved away to escape the expectations of her family. Ever since she went through rehab, they watch her like a hawk. Now she has a good job, new friends, and no one to criticize her or comment on everything she's doing. But when everything begins to unravel, Laura's heart turns toward home.

Follow the Darling family through triumph and tragedy as they struggle with an uncertain future.