products :: :: ::
The Daniel Fast Workbook
The Daniel Fast Workbook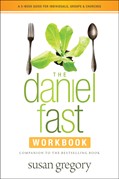 Price:
9.99
ISBN:
978-1-4143-8790-1
Trim Size:
6 x 9
Binding:
Softcover
Release:
November 2013
What if you could grow closer to God and improve your health in just 21 days? This companion workbook to the popular book The Daniel Fast will help you do just that as it guides you through the actual fasting experience. Susan Gregory, "The Daniel Fast Blogger," is widely recognized as the expert on this 21-day fast inspired by the book of Daniel, and she has helped thousands of people discover a safe and healthy way to fast. Designed for churches, small groups, or individuals, her 5-week study contains an introduction, three sessions, and a conclusion (as well as bonus leader's resources). The principles you learn from The Daniel Fast will change the way you view food, your body, and your relationship with the one who created you.