products :: Nonfiction :: Biography / Memoir / Autobiography ::
Surprised by Motherhood
Surprised by Motherhood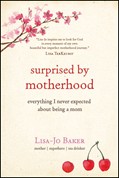 Price:
15.99
ISBN:
978-1-4143-8785-7
Trim Size:
5.5 x 8.25
Binding:
Softcover
Release:
April 2014
A lawyer with a well-stamped passport and a passion for human rights, Lisa-Jo Baker never wanted to be a mom. And then she had kids. Having lost her own mother to cancer as a teenager, Lisa-Jo felt lost on her journey to womanhood and wholly unprepared to raise children.

Surprised by Motherhood is Lisa-Jo's story of becoming and being a mom, and in the process, discovering that all the "what to expect" and "how to" books in the world can never truly prepare you for the sheer exhilaration, joy, and terrifying love that accompanies motherhood.

Set partly in South Africa and partly in the US (with a slight detour to Ukraine along the way), Surprised by Motherhood is a poignant memoir of one woman's dawning realization that being a mom isn't about being perfect—it's about being present.