products :: Nonfiction :: Personal Growth / Self-Help / Motivation :: Spanish ::
Manantial (Edición renacer)
Manantial (Edición renacer)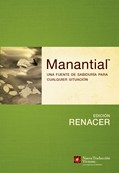 Price:
4.99
ISBN:
978-1-4143-8751-2
Trim Size:
4.125 x 6
Binding:
Softcover
Release:
November 2013
Una fuente de sabiduría para cualquier situación
Manantial: Edición renacer pone las palabras de aliento y de apoyo de Dios en las manos de aquellos que se están recuperando de una adicción, de una pérdida, o de una trajedia personal. Organizado de manera alfabética por temas para un acceso rápido y fácil, los lectores encontrarán que cada sección empieza con una pregunta que es respondida por medio de las Escrituras y termina con una promesa de la Palabra de Dios. Incluye más de 250 temas. Descubrir lo que Dios dice sobre nuestras necesidades particulares, de eso trata la serie Manantial.

A source of wisdom for any situation
TouchPoints for Recovery puts God's words of encouragement and affirmation at the fingertips of those who are recovering from an addiction, loss or personal tragedy. For quick and easy access, the 250 topics are organized alphabetically. Each section starts with a question, which is answered through Scriptures and ends with a promise from God's Word. Finding out what God has to say about our particular needs is what the TouchPoints series is all about.