products :: Bibles :: Devotional ::
Women's Sanctuary Devotional Bible NLT
Women's Sanctuary Devotional Bible NLT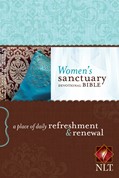 Price:
29.99
ISBN:
978-1-4143-8089-6
Trim Size:
5.5 x 8.25
Binding:
Hardcover
Release:
November 2013
We all desire to enter into a special place, a personal sanctuary to be alone with the one true God. The Woman's Sanctuary Devotional Bible is a beautiful daily devotional Bible for women with devotions by contributors such as Anne Graham Lotz, Elisabeth Elliot, Jill Briscoe, Rebecca St. James, and Teresa of Avila. It includes devotions for weekdays and weekends covering topics like prayer, worship, hymns, women in the Bible, and much more. Book introductions and highlighted verses focus on the theme of Sanctuary and intimacy with God. Attractive design elements include a two-color interior. Also includes a topical index.