products :: Nonfiction :: Devotionals ::
Be Still, My Soul
Be Still, My Soul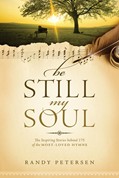 Price:
16.99
ISBN:
978-1-4143-7972-2
Trim Size:
6 x 9
Binding:
Softcover
Release:
February 2014
Be Still, My Soul is a collection of 175 of the most popular hymns and the stories behind them. Many of these hymns were written out of incredible life experiences—from the heart cry of a repentant slave trader to the renewed hope of a survivor of attempted suicide. In this devotional you'll discover the stories behind the songs we sing. You'll experience the passion and joy contained in these hymns' lyrics and melodies. In addition to the hymn stories, Be Still, My Soul includes the musical score, lyrics, and in-depth biographies of 12 of the most-prolific hymn writers, singers, and composers.

Whether you are new to hymns or have cherished them for a long time, you'll enjoy this illuminating book on the stories behind some of the most popular hymns you sing in worship.