products :: Fiction :: Romance ::
The Outcast
The Outcast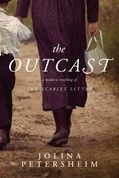 Price:
14.99
ISBN:
978-1-4143-7934-0
Trim Size:
5.5 x 8.25
Binding:
Softcover
Release:
July 2013
2014 "Christian Retailing's Best" award finalist!
Raised in an Old Order Mennonite community, Rachel Stoltzfus is a strong-willed single woman, content living apart from mainstream society until whispers stir the moment her belly swells with new life. Refusing to repent and name the partner in her sin, Rachel feels the wrath of the religious sect as she is shunned by those she loves most. She is eventually coerced into leaving by her brother-in-law, the bishop.

But secrets run deep in this cloistered community, and the bishop is hiding some of his own, threatening his conscience and his very soul. When the life of Rachel's baby is at stake, however, choices must be made that will bring the darkness to light, forever changing the lives of those who call Copper Creek home.
Endorsements
Rachel Stoltzfus has led a contented life among her Old Order Mennonite community. But when she becomes pregnant and refuses to reveal the identity of the father, the sect shuns her, and the bishop, who is Rachel's brother-in-law and who has secrets of his own, forces her to leave. VERDICT: Petersheim makes an outstanding debut with this fresh and inspirational retelling of Nathaniel Hawthorne's The Scarlet Letter. Well-drawn characters and good, old-fashioned storytelling combine in an excellent choice for Nancy Mehl's readers. Starred review
Library Journal


A must-read that will draw you into a secretive world of sin and senselessness and leave you with the hope of one set free
Julie Cantrel, NYT bestselling author of Into the Free