products :: Bibles :: Study :: Spanish ::
Biblia de estudio Diario vivir RVR60
Biblia de estudio Diario vivir RVR60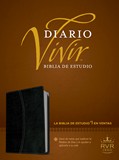 Price:
79.99
ISBN:
978-1-4143-7296-9
Trim Size:
6.5 x 9.188
Binding:
LeatherLike, Indexed, Black/Onyx DuoTono
Release:
July 2012
La Biblia de estudio Diario vivir le provee valiosa información acerca de los principales personajes bíblicos y detalles históricos, geográficos, y cronológicos para que todo lector obtenga una mejor comprensión del contexto en el que fue escrita la Escritura. Este recurso bíblico utiliza la mejor erudición para responder a las dudas que surgen en la vida real, ayudándole a aplicar la Palabra de Dios a cada situación y circunstancia de su vida diaria. Un favorito por muchos años, la Biblia de estudio Diario vivir sigue siendo una de las Biblias de estudio de mayor venta en la actualidad. Ahora disponible en un diseño hermoso de SentiPiel DuoTono.

This Life Application Study Bible provides valuable information about key Bible characters, as well as book introductions with vital statistics, overviews, and timelines to help the reader gain a deeper understanding of the context in which the Scriptures were written. This Bible resource makes use of the best scholarship to respond to real-life questions, helping the reader apply God's Word to each situation and circumstance of daily life. A favorite for many years, the Life Application Study Bible continues to be one of the most popular study Bibles available today. Now available in a beautiful TuTone LeatherLike design.