products :: Nonfiction :: Sports / Recreation ::
Lead . . . for God's Sake!
Lead . . . for God's Sake!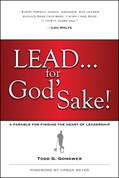 Price:
15.99
ISBN:
978-1-4143-7056-9
Trim Size:
5.5 x 8.25
Binding:
Softcover
Release:
April 2014
If you've ever asked yourself why you do what you do, or wondered what your purpose is in life, this book is for you.
The lives of an intensely-driven basketball coach, an ultra-successful CEO, and an unassuming janitor all intersect in this captivating parable about leadership, relationships, and the pursuit of success. An unforgettable story packed with profound truths, LEAD . . . for God's Sake! will challenge you to think deeply about who you are as a leader, what success means to you, and why you do what you do. Whether you're leading a business, a team, or your own family, this book is the first and most important step to becoming the leader you were meant to be.
Endorsements
This is a book I could not put down. Every parent, coach, manager, and leader should read it. I wish I had read it 30 years ago.
Lou Holtz


One of the most powerful books I have ever read.
Urban Meyer


I could not put this book down. It transcends culture, gender, economics…something that anyone can relate to. What a message!
Mony Williams, Head coach, New Orleans Hornets


This wonderful parable really speaks to your heart, I couldn't put it down. Todd has done a masterful job of condensing servant leadership into simple and applicable truths.
Wally Armstrong, Lifetime PGA tour member


A real life changer! An incredible story packed with great leadership insights. Coaches, parents, and business leaders alike will benefit from reading this book.
Mark Merrill, President, Family First (All Pro Dad); host, Family Minute radio show


As a business leader I found its takeaways right on target—touching life where the rubber meets the road. I wasn't able to put it down.
John D. Beckett, Chairman, The Beckett Companies; author, Loving Monday


I wish this book had been available to my business students and practitioners over the last twenty-five years. It's that good!
Dr. John Mulford, Former dean of the school of business, Regent University