products :: Fiction :: Contemporary ::
Tangled Ashes
Tangled Ashes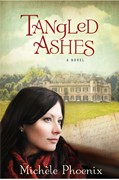 Price:
12.99
ISBN:
978-1-4143-6840-5
Trim Size:
5.5 x 8.25
Binding:
Softcover
Release:
October 2012
2013 Christy Award finalist!
When Marshall Becker arrives in Lamorlaye, France, to begin the massive renovation of a Renaissance-era castle, he unearths a dark World War II history few in the village remember. The project that was meant to provide an escape for Becker instead becomes a gripping glimpse into the human drama that unfolded during the Nazi occupation and seems to live on in midnight disturbances and bizarre acts of vandalism.