products :: Bibles :: Text :: Spanish ::
Santa Biblia NTV, Edición legado
Santa Biblia NTV, Edición legado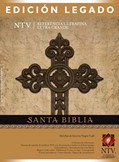 Price:
99.99
ISBN:
978-1-4143-6837-5
Trim Size:
6.5 x 9.188
Binding:
Calfskin Leather, Black/Brown
Release:
January 2012
Tyndale se complace en presentar la más reciente y elegante edición de la Santa Biblia, Nueva Traducción Viviente (NTV): la edición legado, la cual tiene una fina encuadernación hecha a mano de piel genuina de becerro. Esta elegante Biblia de referencia ultrafina con letra grande incluye el sistema de estudio de palabras NTV con diccionario e índice en hebreo/griego, concordancia, introducciones a los libros, mapas a todo color, palabras de Cristo en rojo, cintas marcadoras, canto dorado y páginas de presentación. La edición legado es una excelente Biblia para obtener, y digna para obsequiar y dejar como parte de su legado personal.

The Nueva Traducción Viviente Bible is now available in an elegant deluxe slimline Legacy Edition with full center-column references. It features a beautiful and long-lasting construction with a hand-sewn genuine calfskin binding. Classic reference features include book introductions, NTV word study system with a dictionary and index in Hebrew/Greek, concordance, full-color maps, words of Christ in red, ribbon markers, large print, presentation pages, and gilded edges. The NTV is an authoritative Bible translation uniquely and faithfully rendered into today's Spanish from the ancient texts by more than 50 leading Bible scholars. Its scholarship and clarity breathe life into the most difficult-to-understand Bible passages. That's why we call it "La verdad con claridad" (The Truth Made Clear).