products :: Nonfiction :: Health & Fitness ::
The Ultimate Prescription
The Ultimate Prescription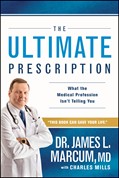 Price:
15.99
ISBN:
978-1-4143-6817-7
Trim Size:
5.5 x 8.25
Binding:
Softcover
Release:
January 2012
Would you like to discover the powerful ways God is part of the healing process? Do you think the media, the government, or your doctor is telling you the whole truth when it comes to health care? Are you tired of taking medications that really don't fix the problem? In The Ultimate Prescription, Dr. James Marcum, a board-certified cardiologist, in-demand speaker, and radio host, discusses these questions and many more from a biblical point of view. He encourages you to find the real answers about your health—and the health of your loved ones. Dr. Marcum explains what he believes is wrong with our current health care system, how to get back on track, and how the spiritual dimension of our health is often being ignored. Discover today the true path to healthy living in The Ultimate Prescription.