products :: Fiction :: Historical ::
All for a Sister
All for a Sister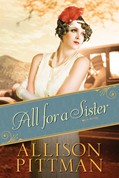 Price:
14.99
ISBN:
978-1-4143-6682-1
Trim Size:
5.5 x 8.25
Binding:
Softcover
Release:
July 2014
In Hollywood during the Roaring Twenties, Celeste DuFrane has it all. Her father's work with color movie film opens doors that lead to the stardom she's always aspired to. But after losing her mother, she discovers that half the estate has been left to a woman accused of killing Celeste's baby sister before Celeste was even born.

Dana Lundgren arrives on the steps of the DuFrane mansion having spent most of her life imprisoned for a crime that never happened. After accusing her of murder so many years ago, why did Marguerite DuFrane leave her a sizeable inheritance?

As Celeste and Dana learn each other's stories, they come up with more questions than answers. Then a surprising discovery begins to fill in the missing pieces: Marguerite DuFrane's written confession, penned shortly before her death. Uncovering the treachery and deceit that changed the course of countless lives—most of all, their own—the two women find more than they ever dreamed of.
Endorsements
QUICK HIT – With hidden motives, captivating twists, and superb writing, Allison Pittman draws readers into her expertly crafted story and into the lives of her conflicted and complex characters.

Novels can generally be described as plot-driven (the actions make the story) or character-driven (the characters make the story), but in reality all story is tension-driven. The actions or the characters are only as compelling as the reason for the reader to jump out of their lives and engage in the characters'. It took two chapters—to the end of the Written Confession of Margaret DuFrane—to know that I wasn't going to put this book down until I could close the final pages. Pittman balances the action and the characters well, expertly relying on the novel's tension to keep readers engaged in the story.

The early 1900s were a magical time in American history. So much innovation, so much new technology, a booming economy. Perhaps nothing epitomized these things more than the Hollywood of the Roaring Twenties. Celeste DuFrane has long been in the world of Hollywood thanks to her father's innovations in color film and it's time for her to make a name for herself as an actress. But when Celeste's mother dies, family secrets begin to come unraveled . . . and Dana Lundgren, the woman who allegedly killed Celeste's sister as a baby some twenty years before, shows up at her door as co-heir of the DuFrane fortune.

The question both of them are thinking: Why did Margaret DuFrane leave half her fortune to her daughter's killer? The following 300 pages intertwine the past and present to provide a beautifully written answer, as the life stories of both Dana and Celeste are played out—Dana, the daughter of the DuFrane's maid; Celeste, as the child meant to replace the daughter lost.

We have a tendency to idealize the past, but Pittman reminds us that sin, deception, and evil was as much a plague a hundred years ago as today. Her depiction of the decadence of the age is reminiscent of F. Scott Fitzgerald's The Great Gatsby, lending it an air of gravitas and grace, somehow making it a more powerful story than if set in a modern timeline. Intertwining the plotlines around Margaret DuFrane's last will and confession was an ingenious idea that provided what, for me, was the novel's major hook.

I really didn't know what to expect when I opened the cover of All for a Sister. I don't routinely read 1920s period pieces. I'm glad I gave this one a chance. Reading it was time well spent.
Josh Olds, lifeisstory.com