products :: Nonfiction :: Business / Leadership ::
Sticking Points
Sticking Points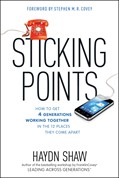 Price:
19.99
ISBN:
978-1-4143-6471-1
Trim Size:
5.5 x 8.25
Binding:
Hardcover
Release:
August 2013
This is the first time in American history that we have had four different generations working side-by-side in the workplace: the Traditionalists (born before 1945), the Baby Boomers (born 1945-1964), Gen X (born 1965-1980), and the Millennials (born 1981-2001).

Haydn Shaw, popular business speaker and generational expert, has identified 12 places where the 4 generations typically come apart in the workplace (and in life as well). These sticking points revolve around differing attitudes toward managing one's own time, texting, social media, organizational structure, and of course, clothing preferences. If we don't learn to work together and stick together around these 12 sticking points, then we'll be wasting a lot of time fighting each other instead of enjoying a friendly and productive team. Sticking Points is a must-read book that will help you understand the generational differences you encounter while teaching how we can learn to speak one another's language and get better results together.
Endorsements
Haydn not only turns automatic contention between the generations into understanding, but reveals the opportunities. A must-read!
Ron McMillan, coauthor of four New York Times Bestsellers, including Crucial Conversations


Sticking Points provides a practical way to turn generational tensions into team results so we don't miss the many benefits this new generation can bring. Your whole team will want to read and talk about this book.
Don Tapscott, author of 15 widely read books, including Macrowikinomics: New Solutions for a connected planet


The secret to future success lies in GQ: generational intelligence. Read this book!
Tim Sanders, CEO of Net Minds and author of Today We Are Rich and Love is the killer app