products :: Teens :: Devotionals ::
Around the Word in 60 Seconds
Around the Word in 60 Seconds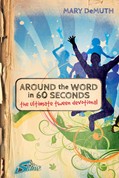 Price:
14.99
ISBN:
978-1-4143-6392-9
Trim Size:
5.5 x 8.25
Binding:
Softcover
Release:
September 2012
The teen years can be exciting, challenging, and unpredictable—and so can the journey of getting to know Jesus! Around the Word in 60 Seconds is the perfect road map for both of those adventures. This devotional encourages readers to walk closely with God and learn how to handle tough situations with spiritual strength.

The perfect gift for the teen or tween in your life, Around the Word in 60 Seconds contains 52 weeks of stories illustrating the things that guys and girls encounter every day (like love, family, friends, money, temptation, school, and many more). An activity, prayer, and verses help it hit home. Through short, daily interactions with God, readers will learn what it means to truly follow Jesus with changed hearts and lives.

Written by popular author Mary DeMuth in partnership with the influential youth ministry iShine.