products :: Kids :: Bible Storybooks :: Spanish ::
La Biblia preescolar
La Biblia preescolar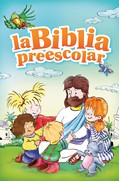 Price:
16.99
ISBN:
978-1-4143-5995-3
Trim Size:
6.5 x 9.438
Binding:
Hardcover
Release:
September 2011
Retailers Choice Award winner, 2012
La Biblia preescolar, escrita por un equipo de expertos en educación cristiana de preescolares, hace que la Biblia cobre vida para los niños pequeños. Las ilustraciones dinámicas, energéticas y vibrantes mostradas en cada plana capturarán la imaginación de los niños proporcionándoles un amor perdurable por la Palabra de Dios. Además de las historias, cada sección cuenta con actividades fáciles y divertidas que los padres y los niños pueden realizar juntos. ¡Las actividades ayudarán a los niños a recordar y a relacionarse con las historias!

La Biblia preescolar, written by a team of preschool church education experts, makes the Bible come alive for young children. The dynamic, high-energy, vibrant illustrations featured on every spread will capture children's imaginations while giving them a lifelong love for God's Word. In addition to the retellings, each story includes fun and easy activities that parents and kids can do together. The activities help kids remember and relate to the stories!