products :: Fiction :: Contemporary Romance ::
Forever
Forever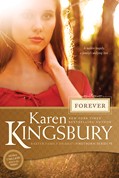 Price:
14.99
ISBN:
978-1-4143-4980-0
Trim Size:
5.5 x 8.25
Binding:
Softcover
Release:
October 2011
A fresh, new look for the bestselling Firstborn series—the second installment in the continuing Baxter Family Drama from America's number one inspirational novelist, Karen Kingsbury. Revisit the Baxter family in all their life-changing events, or share the series with someone who hasn't discovered it yet.

Katy Hart is thrilled about her future with Hollywood's Dayne Matthews. But as she plans a wedding and looks for a house on the shores of Lake Monroe, she receives tragic news. Now she and the Baxter family must travel to Los Angeles to sort through their options. While paparazzi hound them, Luke Baxter wrestles with feelings that have troubled him for nearly a year. Ultimately, the Baxters must pull together one last time in an act of service and love to help Katy and Dayne find what they've always been looking for—a chance at forever.