products :: Fiction :: Contemporary Romance ::
Forgiven
Forgiven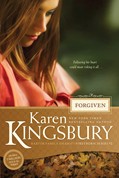 Price:
14.99
ISBN:
978-1-4143-4977-0
Trim Size:
5.5 x 8.25
Binding:
Softcover
Release:
October 2011
A fresh, new look for the bestselling Firstborn series—the second installment in the continuing Baxter Family Drama from America's number one inspirational novelist, Karen Kingsbury. Revisit the Baxter family in all their life-changing events, or share the series with someone who hasn't discovered it yet.

Dayne Matthews is at the top of the Hollywood list, working on what may be his best movie yet. Still, he feels empty and unfocused, aching for real love and the family he'll never know. Then a friend tells him about a teaching center and a way to become like God. Is this the answer Dayne's been searching for? Back in Bloomington, Katy Hart struggles to walk the Christian Kids Theater group through a devastating tragedy, and John Baxter reconnects with an old friend and shares a buried secret.