products :: Fiction :: Romance ::
Borders of the Heart
Borders of the Heart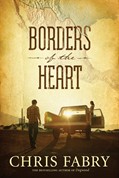 Price:
13.99
ISBN:
978-1-4143-4862-9
Trim Size:
5.5 x 8.25
Binding:
Softcover
Release:
October 2012
A Christy Award finalist from the best-selling author of War Room!
Desperate to escape haunting memories, J. D. Jessup travels from Nashville to Tucson and volunteers on an organic farm. The hardened landowner has one prevailing rule: If J. D. sees an "illegal," call the border patrol. But when an early morning ride along the fence line leads him to a beautiful young woman named Maria, near death in the desert, his heart pulls him in another direction. Longing to atone for the choices that drove him to Tucson, J. D. hides her and unleashes a chain of deadly events he could never have imagined. Soon they are running from a killer and fighting for their lives. As secrets of their pasts emerge, J. D. realizes that saving Maria may be the only way to save himself.
Endorsements
What do you do when the laws of man are in direct conflict with the laws of God? That's the dilemma former musician J. D. Jessup faces when he finds a half-dead woman just this side of the Arizona-Mexico border. His boss has decreed that all "illegals" are to be handed over to the Border Patrol. J. D. sees something in "Maria" he can't explain and hides her instead. Soon it becomes apparent that she's being hunted by the sadistic Muerte, head of a powerful, ruthless Mexican cartel. As Maria and J. D. go on the run, they discover they each have dark, hidden secrets they're reluctant to share. In this edge-of-your-seat romantic suspense, all of the characters ring true, from the inner-city minister to the beleaguered ranchers. Fabry has nailed the attitudes of those in Arizona who deal with undocumented people in both humane and inhumane ways.
Booklist