products :: Nonfiction :: Personal Growth / Self-Help / Motivation ::
You're Stronger Than You Think
You're Stronger Than You Think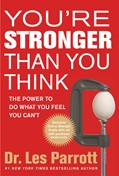 Price:
15.99
ISBN:
978-1-4143-4853-7
Trim Size:
5.5 x 8.25
Binding:
Softcover
Release:
August 2012
In You're Stronger Than You Think, psychologist Dr. Les Parrott helps you access the power to do what you feel you can't. With practical insights and hard-earned wisdom, he shows you that by changing how you think, understanding what you feel, and using the power that lies untapped deep in your soul, you can summon strength you didn't know you had—strength that ultimately comes from God. The secret to tapping into your inner strength is not about positive thinking or pulling yourself up by your bootstraps. Instead, it's about leveraging your strengths and overcoming your weaknesses to reveal a surprising inner-power that God has placed deep in your heart. Using a counterintuitive approach to overcoming hardship, You're Stronger Than You Think will help you find the unexpected power you need to pass through both the everyday and extraordinary tests of life.