products :: Nonfiction :: Sports / Recreation ::
The Runner's Devotional
The Runner's Devotional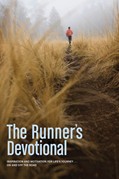 Price:
14.99
ISBN:
978-1-4143-4812-4
Trim Size:
5.5 x 8.25
Binding:
Softcover
Release:
September 2011
Ever wondered if there's a purpose to your running and what it has to do with your spiritual life? The Runner's Devotional will inspire you in your faith while encouraging you to excel at the sport you love! This book is for runners of all levels—casual and avid, competitive and recreational—who want to improve their running skills, attain personal running goals, and grow closer to God. Fifty-two devotional readings will keep runners motivated, inspired, and running in the right direction, both on and off the road, through life's many peaks and valleys. Each devotional includes an inspirational reading, a personal story from a runner, Scripture application, running tips, and questions to consider. Additional features include health and fitness tips, and weekly runner's logs.