products :: Nonfiction :: Biography / Memoir / Autobiography ::
Growing Up Amish
Growing Up Amish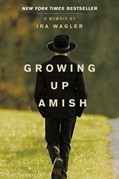 Price:
14.99
ISBN:
978-1-4143-3936-8
Trim Size:
5.5 x 8.25
Binding:
Softcover
Release:
July 2011
New York Times eBook bestseller!
One fateful starless night, 17-year-old Ira Wagler got up at 2 AM, left a scribbled note under his pillow, packed all of his earthly belongings into in a little black duffel bag, and walked away from his home in the Amish settlement of Bloomfield, Iowa. Now, in this heartwarming memoir, Ira paints a vivid portrait of Amish life—from his childhood days on the family farm, his Rumspringa rite of passage at age 16, to his ultimate decision to leave the Amish Church for good at age 26. Growing Up Amish is the true story of one man's quest to discover who he is and where he belongs. Readers will laugh, cry, and be inspired by this charming yet poignant coming of age story set amidst the backdrop of one of the most enigmatic cultures in America today—the Old Order Amish.
Endorsements
Filmmakers, academics, and novelists have offered depictions of Amish life. This memoir offers a nuanced account from a man who straddled both Amish and "English" (non-Amish) worlds. Wagler recounts his Amish upbringing, from dating conventions and worship services to local gossip and schoolyard bullies. The simplicity of everyday life may seem quaint on the surface. Yet Wagler bravely goes on to expose pervasive dissatisfaction among both youth and adult Amish living in what he characterizes as a stifling, formulaic world. Such unspoken displeasure sparked a cycle of coming and going for the author, who repeatedly crept away from his community only to return, if reluctantly, for its familiarity. It was a "paradox that would haunt me for almost ten years: the tug-of-war between two worlds." His tale of restlessness looks acutely at the clash of family ties with love of freedom. The memoir is worthwhile as much for its Amish insights as for its exploration of one man's emotional turmoil, regret, and shame. Wagler, who now works at a building and supply company in Lancaster County, Pa., deserves praise for his honesty.
Publisher's Weekly