products :: Nonfiction :: Seasonal ::
Let Every Heart Prepare Him Room
Let Every Heart Prepare Him Room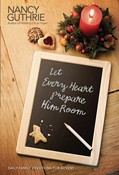 Price:
12.99
ISBN:
978-1-4143-3909-2
Trim Size:
4.25 x 6.25
Binding:
Hardcover
Release:
October 2010
How many Christmas mornings have you found your family gathered around the tree with presents beautifully wrapped and a scrumptious feast on the table, but with hearts that have not been prepared to truly take in the wonder of God become human? Not this year. Let Every Heart Prepare Him Room, a family Advent devotional from Bible teacher and mom Nancy Guthrie, is designed to bring your family together during a season that is oftentimes too much about programs and presents, and simply not enough about Jesus. Along with devotions for every day in December, this resource includes explanations of some hard-to-understand aspects of popular Christmas carols, and discussion questions to draw in your elementary through high school-aged kids, transforming this time together from a dry lecture into a treasured family experience.