products :: Nonfiction :: Inspirational :: Spanish ::
Manantial (Edición para líderes)
Manantial (Edición para líderes)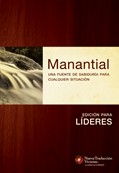 Price:
4.99
ISBN:
978-1-4143-3778-4
Trim Size:
4.125 x 6
Binding:
Softcover
Release:
June 2011
Manantial es una colección de versículos bíblicos y de temas relevantes para los lideres cristianos de hoy. Cada tema contiene dos o tres preguntas relacionadas con la vida, con versículos que responden a cada pregunta y notas útiles. Ordenado de manera alfabética por temas para un acceso rápido y fácil, los lectores encontrarán respuestas, palabras de aliento y promesas de la Biblia sobre los desafíos relacionados con el liderazgo. Manantial responde a sus preguntas más apremiantes con las respuestas y sabiduría de Dios.
Manantial is a classic collection of Bible verses and topics relevant to today´s Christian leaders. Arranged alphabetically by topic for quick and easy access, readers will find answers, words of encouragement, and Bible promises related to the challenges of leadership. Manantial puts God's answers to your most pressing questions at your fingertips.