products :: Nonfiction :: Sports / Recreation ::
Remember Why You Play
Remember Why You Play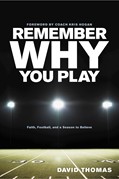 Price:
14.99
ISBN:
978-1-4143-3727-2
Trim Size:
5.5 x 8.25
Binding:
Softcover
Release:
September 2010
If you enjoyed Friday Night Lights, this book is a must-read. Remember Why You Play documents the lives, struggles, and triumphs of the players and coaches of Faith Christian School in Grapevine, Texas.
Sports columnist and author David Thomas followed the team for a full season, recording a story that will inspire readers to understand that relationships are more important than winning.
One of the key events was a game that Faith Christian played against the Gainesville State Tornadoes, a school for convicted juvenile offenders. The story of this spectacular game is being made into a movie, titled One Heart, with an anticipated release in November 2010. Reminiscent of Hoosiers and Remember the Titans, this true story makes a strong statement about the impact of compassion and sportsmanship.