products :: Nonfiction :: Devotionals ::
I Am with You
I Am with You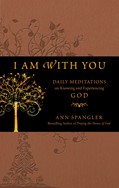 Price:
19.99
ISBN:
978-1-4143-3599-5
Trim Size:
5.5 x 8.25
Binding:
LeatherLike
Release:
August 2015
God Is Greater than You Think
Many people feel both drawn to God and afraid of Him at the same time. Is it really possible to be close to a perfect God when it seems like we are always messing up?

Fortunately, God wants us to know him better. In this daily devotional, Ann Spangler paints a thrilling vision of a God who is not only all powerful but also deeply compassionate and rich in mercy.

As you learn more about this amazing God who is holy, just, always present, and filled with unending love, you will quickly realize that God is far bigger and far better than anything you could ever hope or imagine.