products :: Nonfiction :: Reference :: Spanish ::
¡Qué buena pregunta!
¡Qué buena pregunta!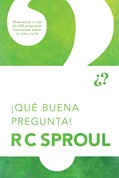 Price:
16.99
ISBN:
978-1-4143-3591-9
Trim Size:
6 x 9
Binding:
Softcover
Release:
January 2011
En forma práctica e ingeniosa, y con un enfoque experimentado y sensato de la Palabra de Dios, el Dr. R. C. Sproul aborda más de 300 preguntas frecuentes formuladas por gente interesada en la fe y la vida cristiana.
In a personable, easy-to-read style, and an experienced and sensible approach to the Word of God, Dr. R. C. Sproul addresses more than 300 common questions asked by people interested in faith and Christian living.