products :: Fiction :: Romance ::
Hurricanes in Paradise
Hurricanes in Paradise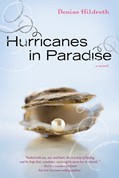 Price:
13.99
ISBN:
978-1-4143-3557-5
Trim Size:
5.5 x 8.25
Binding:
Softcover
Release:
June 2010
When Riley Sinclair stepped into her new job as director of guest relations at a posh resort on Paradise Island, she felt the final pieces of her once-broken life coming together. But the waters become choppy when Riley discovers that some who come to the Atlantis Hotel are accompanied by paralyzing secrets and overwhelming fears. Riley and three guests are in desperate but unknowing need of each other, eventually forging unlikely yet powerful friendships. With a hurricane headed straight for the island, together they embark on a journey of laughter, heartache, and healing.