products :: Fiction :: Classic / Allegory ::
Apollyon
Apollyon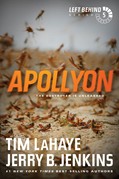 Price:
15.99
ISBN:
978-1-4143-3494-3
Trim Size:
5.5 x 8.25
Binding:
Softcover
Release:
April 2011
As the world's thousands of believers gather in Jerusalem for a stadium rally, the Tribulation Force struggles with their own personal crises. Newspaper reporter Buck Williams and his wife, Chloe, question whether or not they should have a child when the future of the world is so uncertain. Meanwhile, Rayford Steele discovers the shocking truth about his wife, Amanda.
Nicolae Carpathia continues his rise to power, forcing believers underground. But Nicolae isn't prepared for a plague of scorpion-like locusts tormenting his followers—with a pain so horrible that men try to kill themselves but aren't allowed to die.
A repackage of the fifth book in the New York Times best-selling Left Behind series.