products :: Kids :: Juvenile Fiction ::
Final Battle
Final Battle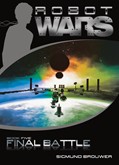 Price:
7.99
ISBN:
978-1-4143-2313-8
Trim Size:
5.25 x 7.25
Binding:
Softcover
Release:
September 2009
Set at an experimental community on Mars in the year 2039-2040, Robot Wars features 14-year-old virtual reality specialist Tyce Sanders. Life on the Red Planet is not always easy, but it is definitely exciting. As Tyce explores his strange surroundings, he finds that the mysteries of the planet point to his greatest discovery—a new relationship with God. He talks about his growing faith and curiosity in a manner that kids can relate to as they are probably wondering some of the same things.
Book five, Final Battle, begins with Tyce's threat to reveal his special talents to the world—much to the dismay of the rebels who want to keep the technology a secret. Tyce has to battle the rebels and their plot while trying to return to Mars. The success of the entire Mars Project depends on his every move.