products :: Kids :: Juvenile Nonfiction ::
For Girls Only! Devotions
For Girls Only! Devotions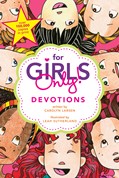 Price:
9.99
ISBN:
978-1-4143-2209-4
Trim Size:
5.5 x 8.25
Binding:
Softcover
Release:
October 2009
This devotional will help girls ages 8-12 apply biblical concepts to their daily lives. Each devotion is written and designed with today's tween and her issues in mind. Using a Scripture as the theme, each devotion includes a modern-day story and several interactive exercises, including a To-Do list, a quiz, related Scriptures, and quotations that reinforce the lesson. Filled with whimsical and girl-centric art, this fun devotional will be hard for young girls to put down!