products :: Bibles :: Devotional ::
Holy Bible: Mosaic NLT
Holy Bible: Mosaic NLT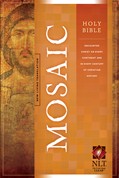 Price:
49.99
ISBN:
978-1-4143-2205-6
Trim Size:
5.5 x 8.25
Binding:
LeatherLike Cross
Release:
October 2009
Encounter Christ on every continent and in every century of Christian History. A new genre of Bible—a weekly meditation Bible—Holy Bible: Mosaic is an invitation to experience Christ both in His word and in the responses of his people. Each week, as you reflect on guided Scripture readings aligned with the church seasons, you will receive a wealth of insight from historical and contemporary writings. Full-color artwork will engage the soul; quotes, hymns, prayers, and poems enhance the rich devotional experience. Also includes a Dictionary/Concordance, NLT word study system with Hebrew/ Greek dictionary. A beautiful layout of art and devotional content, and an online community and content (coming Fall 2009) will extend the experience.