products :: Nonfiction :: Bible Reference ::
NLT Desktop Concordance
NLT Desktop Concordance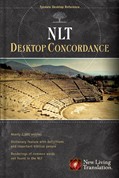 Price:
14.99
ISBN:
978-1-4143-2200-1
Trim Size:
5.5 x 8.25
Binding:
Softcover
Release:
June 2008
Features common and important words in an easy-to-use, low-cost edition. Includes dictionary entries and common words not found in the NLT, with NLT renderings. Also includes Bible figures, with highlights from their lives. Nearly 2,000 entries!