products :: Nonfiction :: People & Culture ::
How Harry Cast His Spell
How Harry Cast His Spell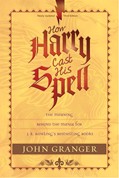 Price:
14.99
ISBN:
978-1-4143-2188-2
Trim Size:
5.5 x 8.25
Binding:
Softcover
Release:
September 2008
More than any other book of the last fifty years (and perhaps ever), the Harry Potter novels have captured the imagination of children and adults around the world. Yet no one has ever been able to unlock the secret of Harry's wild popularity . . . until now. Updated and expanded since its original publication as Looking for God in Harry Potter (and now containing final conclusions based on the entire series), How Harry Cast His Spell explains why the books meet our longing to experience the truths of life, love, and death; help us better understand life and our role in the universe; and encourage us to discover and develop our own gifts and abilities.