products :: Nonfiction :: Bible Reference ::
TouchPoints for Women Gift Edition
TouchPoints for Women Gift Edition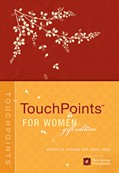 Price:
12.99
ISBN:
978-1-4143-2020-5
Trim Size:
4.125 x 6
Binding:
LeatherLike
Release:
January 2011
This elegant gift edition of the best-selling TouchPoints for Women features a LeatherLike flexible cover with matte foil-stamped embellishments, ribbon marker, lovely interior accents, and yellow floral printing on the edges. This book puts God's answers to your most pressing questions right at your fingertips. Inside, you'll find answers, words of encouragement, and Bible promises on nearly 150 alphabetically arranged topics—from affection, belonging, and contentment to disappointment, loneliness, and security.