products :: Nonfiction :: Reference ::
TouchPoints for Women
TouchPoints for Women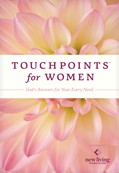 Price:
4.99
ISBN:
978-1-4143-2019-9
Trim Size:
4.125 x 6
Binding:
Softcover
Release:
May 2012
TouchPoints for Women puts God's answers to your most pressing questions right at your fingertips. Inside, you'll find answers, words of encouragement, and Bible promises on nearly 150 alphabetically arranged topics—from affection, belonging, and contentment, to disappointment, loneliness, and security. Whether you read this book straight through or use it as a handy reference guide for those days when life throws you an unexpected curve, you'll be amazed at the impact God's Word can and does have on your everyday life.