products :: Fiction :: Historical ::
Faith
Faith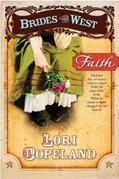 Price:
12.99
ISBN:
978-1-4143-1534-8
Trim Size:
5.5 x 8.25
Binding:
Softcover
Release:
August 2007
1998 HOLT Medallion Award winner! (Inspirational category)
Best-selling author Lori Copeland kicks off this historical Western series with this pleasing tale of mail-order brides set in 1872. When their pastor father dies suddenly, leaving little money, three sisters realize that they need to take drastic action to survive. Each answers a newspaper ad soliciting Christian brides. Faith goes to Texas, where her intended, a well-to-do rancher named Nicholas Shepherd, seems to be having second thoughts. While her wedding is repeatedly postponed, Faith meets a local widower and decides to teach his blind son Braille. In time, Nicholas begins to realize that he may have lost Faith to another man.