products :: Nonfiction :: Evangelism ::
Jim and Casper Go to Church
Jim and Casper Go to Church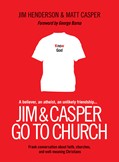 Price:
16.99
ISBN:
978-1-4143-1331-3
Trim Size:
5.5 x 7.5
Binding:
Hardcover
Release:
April 2007
Jim Henderson pays people to go to church. In fact, he made national news when he "rented" a soul for $504 on E-Bay after its owner offered an "open mind" to the highest bidder. In
Jim & Casper Go to Church,
Hendrson hires another atheist—Matt Casper—to visit ten leading churches with him and give the "first impression" perspective of a non-believer. What follows is a startling dialogue between an atheist and a believer seeing church anew through the eyes of a skeptic, and the development of an amazing relationship between two men with diametrically opposing views of the world who agree to respect each others' space. Foreword by George Barna.
FEATURES:
Unique perspective of both Christian and atheist on the church and Christians in the USA
Intelligent and respectful, seeking dialogue between key characters
Helps the Christian understand the change in attitudes and actions required when shifting from defending the faith to defending "sacred space"—from talking to listening, from strength to weakness, from debate to dialogue, from manipulation to intentionality