products :: Nonfiction :: Study Guide / Curriculum ::
Making the Best of a Bad Decision
Making the Best of a Bad Decision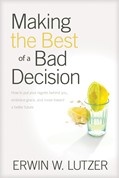 Price:
15.99
ISBN:
978-1-4143-1143-2
Trim Size:
5.5 x 8.25
Binding:
Softcover
Release:
June 2011
Maybe you worry you've married the wrong person. Maybe you're carrying the burden of a secret or have gone down a dangerous road. Maybe you've made a life choice that's hurt someone else so badly you feel the relationship can never be restored. But there's good news: you have the opportunity to clear your conscience, make things right with God and others, and get to a place of grace and new beginnings. Join pastor and bestselling author Erwin Lutzer as he shows you how to make the best of even your worst decisions and move forward into a better future.