products :: Nonfiction :: Inspirational ::
Finding the Light in Cancer's Shadow
Finding the Light in Cancer's Shadow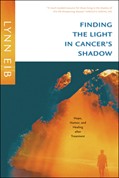 Price:
13.99
ISBN:
978-1-4143-0572-1
Trim Size:
5.5 x 8.25
Binding:
Softcover
Release:
February 2006
Coping with cancer is sometimes more emotionally difficult after treatment than during it. There's a shadow of cancer hanging overhead and so few who really understand survivors' unique needs. With her trademark humor and straight talk, patient advocate Lynn Eib takes on the tough questions cancer survivors often ask themselves yet rarely speak out loud: Is everyone as paranoid as I am? How do I stay positive? What if the cancer comes back? Eib weaves the story of her own experience as a longtime cancer survivor and those of other survivors into this hope-filled, practical book designed to move readers out from cancer's shadow and into renewed purpose and joy.