products :: :: ::
Is God Always with Me?
Is God Always with Me?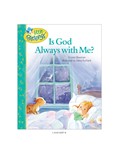 Price:
9.99
ISBN:
978-1-4143-0287-4
Trim Size:
5.75 x 7.25
Binding:
Hardcover
Release:
January 2006
This delightful volume in the Little Blessings line helps young children understand basic truths about God. Is God Always with Me? introduces children ages 3–6 to the idea that God is a part of their everyday lives. This read-to-me book with beautiful illustrations and pleasant rhyming verses conveys the comforting truth that God is with us wherever we go, no matter what.