products :: Nonfiction :: Bible Study ::
Holding Out for a Hero
Holding Out for a Hero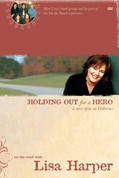 Price:
15.99
ISBN:
978-1-4143-0276-8
Trim Size:
6 x 9
Binding:
Softcover
Release:
June 2005
Holding Out for a Hero is the first in a series of book studies by emerging author Lisa Harper. Throughout the study, Lisa guides readers along the road to a more complete understanding of Hebrews as she discusses such timeless themes as trusting God in tough times, holding onto hope when life is hard, and the importance of running toward God when you feel like running away. This study helps readers understand what life was like for a Jewish Christian during the first century and parallels that to our own trials today. The book also features an interactive DVD in which Lisa leads a group of women through the study and addresses the reader personally.