products :: Bibles :: Text ::
Compact Gift Bible NLT
Compact Gift Bible NLT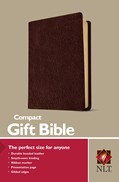 Price:
14.99
ISBN:
978-1-4143-0173-0
Trim Size:
4.125 x 6.125
Binding:
Bonded Leather, Burgundy/maroon
Release:
October 2004
The Compact Gift Bible offers great features such as bonded leather, a ribbon marker, and gilded edges at an incredible price. Its compact size and bonded leather binding make it a great companion Bible. The value price makes it a great gift Bible.