products :: Nonfiction :: Study Guide / Curriculum ::
Maybe God Is Right After All
Maybe God Is Right After All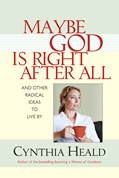 Price:
13.99
ISBN:
978-1-4143-0084-9
Trim Size:
5.5 x 8.25
Binding:
Softcover
Release:
December 2005
Maybe God Is Right After All
is a lifetime of wisdom from mentor, Bible-study writer, and best-selling author Cynthia Heald. Cynthia offers 10 take-along truths, tested and proven in her own journey, to equip readers to make godly choices at the crossroads of their own life circumstances.
Features:
Meets spiritual needs by providing biblical guidance about major and minor life decisions.
Compelling stories from Cynthia's life, the lives of other women, and Scripture that inspire women to follow Christ's radical demands, no matter what.
Includes Bible study questions that lead women into a deeper relationship with Christ.
The author's first new book since 2000.