products :: Nonfiction :: Spiritual Growth ::
I Told the Mountain to Move
I Told the Mountain to Move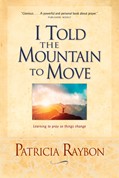 Price:
16.99
ISBN:
978-0-8423-8798-9
Trim Size:
6 x 9
Binding:
Softcover
Release:
September 2006
Christianity Today Book of the Year finalist!
The critically acclaimed book from Patricia Raybon is now in softcover. In her search for a more authentic prayer life, award-winning author, journalist, and educator Patricia Raybon set out to learn the secrets of prayer, searching for a connection with God that could transform her life and impact others. In I Told the Mountain to Move, Raybon reflects on her upbringing in a strict, churchgoing family, her departure from her childhood faith, and her struggle to return to God in adulthood. This wonderfully written book reaches across racial, denominational, and cultural lines, as Raybon discovers that prayer is a deliberate discipline that draws the prayer warrior into a life-changing relationship with God.